Wise Anti Malware
is a Free Windows security solution, it can detect and remove virus, malware, adware, phishing, spyware, ransomware, PUA/PUP and other kinds of threats. It is really powerful and easy to use.
If it is your first time to use
Wise Anti Malware
, after installation,
Wise Anti Malware
will auto download the virus engine, so when you see the message below, please wait patiently.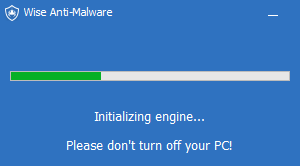 Step 2 - Enable real-time protection
If virus engine is ready, when you open
Wise Anti Malware
, it will remind you that the Real-time Protection is turned off. So, please enable Real-time Protection immediately. Click it and choose all shields.
Step 3 - Run Checkup to scan your system
After installation, we recommend to run Checkup to scan your system right now. As you see, the Checkup not only detects malwares, but also scans temporary files and registry issues like Wise Care 365 does.
To sum up, this quick checkup & fix feature is enough to clean and protect your PC. Moreover, Wise Anti Malware can do much more, such as scan a specify directory or full disk, detect and remove adware, clean cache file only, and so on. Be quick to try
Wise Anti Malware
now.